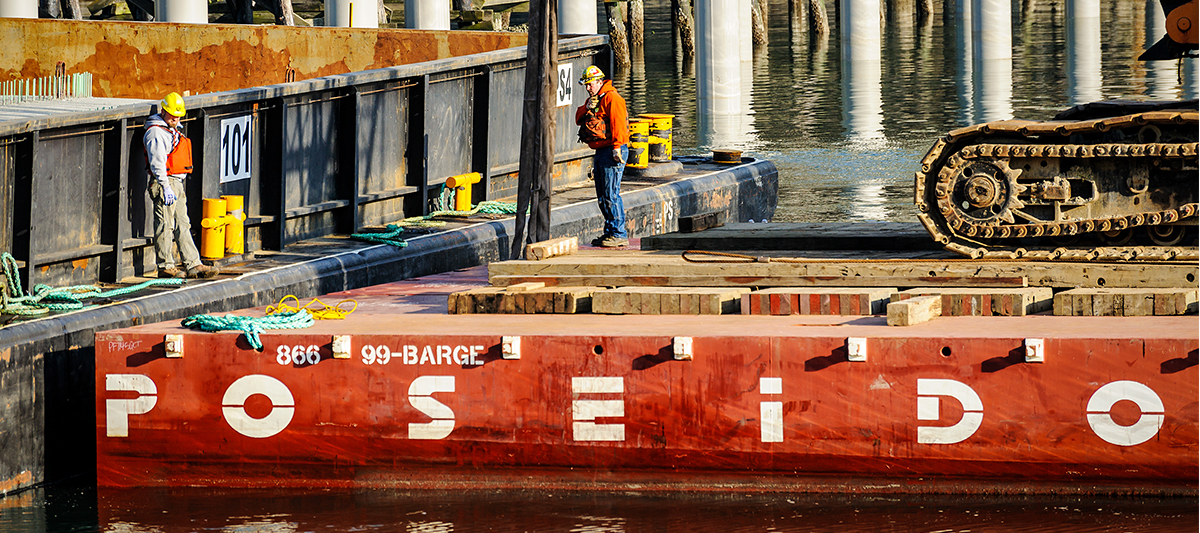 Pile Driving, Cofferdam and Shoring:
Quigg Bros., Inc. specializes in complex civil projects in rural and urban locations across Washington. With many different project locations and counting, QBI has completed contracts ranging from cofferdams for fuel tank installation to 120' steel piling installation to emergency shoring. The company routinely tackles many projects, in multiple locations, while ensuring the quality of each and that budget and schedule restrictions are met.
Marine:
Marine construction operations are logistically challenging. Continuing its commitment to excellence, Quigg Bros., Inc. has focused on and invested in marine capabilities. Since 1937, QBI has maintained fleets of tug boats, barges and derricks. With our capabilities, we have completed projects ranging from precision dredging to pile driving to wharf construction to jetty construction and repair. Our current fleet is well maintained and our crew is well trained. Our understanding of the unique challenges in marine environments has allowed QBI to remain one of the safest operators in the industry.
Jetty and Bankline Construction:
Quigg Bros., Inc. owns and operates several rock sources. Additionally, we maintain a special relationship with the operators of largest granite source in the Pacific Northwest. Availability to rock, our equipment fleet and our well trained employees makes QBI a preferred contractor for emergency bankline stabilization and jetty construction. We can mobilize and be onsite quickly. QBI has been involved in jetty construction since the beginning of Grays Harbor Construction (predecessor to Quigg Bros., Inc.) in the early 1900's.
Road and Bridge Construction:
Since Quigg Bros., Inc.'s beginning in 1937; we have had a strong focus on bridge construction. Our crew focuses on safety and gaining efficiencies when building bridges ranging from concrete girder bridges to steel spans. Our large and well maintained fleet of cranes allows us to keep several bridge projects going at any given time. QBI has a large inventory of false work and deck panels that let us tackle projects with difficult access and long spans.
Fish Passage/Stream Enhancement:
Most projects that Quigg Bros., Inc. has some stream enhancement or protection component to it. Our crews are trained to follow detailed plans and regulatory requirements while working in and around fish bearing bodies of water. Our equipment has been outfitted with organic lubricants. QBI maintains dewatering and stream diversion gear that allows us to tackle any project.
Industrial Construction and Maintenance:
Ranging from new facility construction to routine maintenance on existing facilities, Quigg Bros., Inc. can provide clients with a wide range of services.
Aggregate Production and Recycling:
coming soon
Marine Terminal:
coming soon